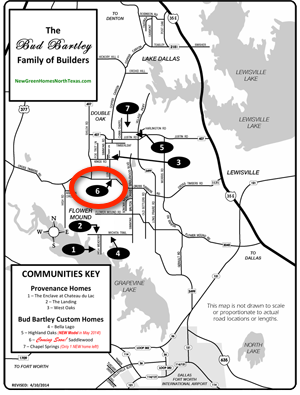 One of the "Pumpkin Patch" areas located near prestigious Flower Mound, Saddlewood is a peaceful, rural community situated just minutes from the Dallas-Fort Worth metroplex area. At Bud Bartley Family of Builders, we are excited about a new project we're working on in the area, widely known for all things horses – riding trails, stables, horse training, and more. Saddlewood is a wonderful place to live, offering the best in shopping, dining, family activities, and culture just miles away!
Certified as a "Tree City USA" for 20 consecutive years by the Arbor Day Foundation, Flower Mound is a luxurious, rural city, offering some of the most beautiful, distinct homes in the U.S. today. As trusted green homebuilders in the North Texas area, we know that the number of people who desire eco-friendly homes is growing rapidly. While you may have the financial resources to build a fine home, you still want to do your part to improve the environment for future generations – and having a healthier home that saves you money in terms of energy costs is just an added bonus. So, what are we doing that makes our green luxury homes stand apart from the rest?
The homes we are building have HERS (home energy rating system) ratings that are a decade ahead of their time! This means improved indoor air quality, accomplished by the innovative new air intakes, filters, and other components used for heating and cooling your home. While you may not be aware of it, the air inside most homes is far more polluted than outdoor air! We're making huge strides to help homeowners enjoy healthier indoor air which results in fewer allergies, asthma, and other respiratory issues.
Today's green homes are a far cry from those of 20 or 30 years ago; no longer do homeowners have to sacrifice beauty and elegance in order to enjoy a home that's friendlier for the environment. If you are considering Saddlewood custom homes that are also green homes, contact Bud Bartley Family of Builders today to learn more about our development of 1/2 acre lots with quality, distinctive "green" homes.