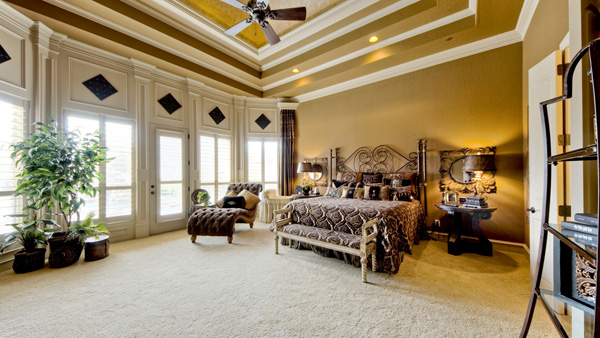 If you're considering having a Highland Village custom home builder construct your dream home, it's important that you don't lose focus on some of the most important areas of your home when caught up in the excitement. One area you should concentrate on is a custom master suite; after all, this is a place where you will spend time resting, sleeping, and relaxing after a hard day.
Here are a few ideas to make your space as relaxing and inviting as possible:
Would you use a sitting area? Many couples enjoy a cozy area to read before bedtime, or to enjoy the newspaper early in the morning while everyone else is still sleeping. A couple of chairs and a reading table along with a few potted plants will give you a nice cozy space to relax.
Enjoy a dark room? Consider some of the shades available today with blackout options. Don't worry – there are so many designs available, you won't have to sacrifice style and beauty to enjoy a good night's sleep in a completely dark room. Some include Roman, roller, or woven wood shades, vertical hardwood blinds, and pleated or cellular shades.
Lighting. If you enjoy reading in bed, consider recessed overhead lighting. By using separate switches with a dimmer, you can adjust the brightness, and turn the light off without having to get out of bed.
Light sleeper? If every little noise wakes you up, think about soundproofing the walls or insulation as a barrier to the noise coming from other rooms, such as the television or your teenager's music. Also consider a solid core door to further block noise from other areas of your home.
A morning bar for coffee, juice, or a pastry, with a large window offering a glorious morning view. The master suite can be a retreat from the outside world, rather than just an ordinary bedroom!
At Bud Bartley Family of Builders, we want those considering a Highland Village custom home to carefully consider every room of your house before you begin the building process. Why just love the living room or kitchen when you can design every room to its full potential?