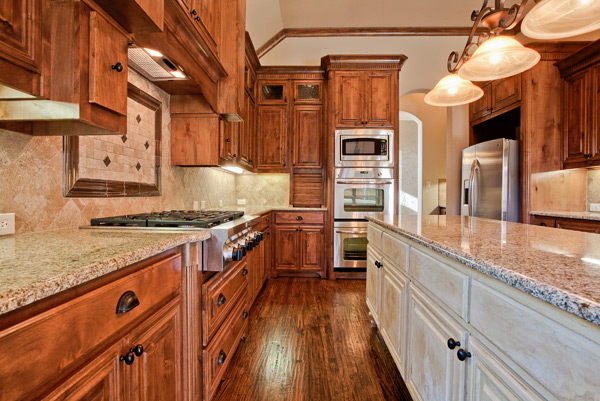 For many families, the kitchen is the "hub" of the home; it's where your family gathers to enjoy meals and share the events of the day. Holidays bring crowds to the kitchen, as the women prepare meals and men come in to "taste test" all of the offerings. Those considering green homes in Denton County may be interested to learn more about the aspects of a green kitchen and its benefits to the earth and your family's health. As trusted green home builders in the Dallas area, the professionals at Bud Bartley Homes enjoy educating prospective homeowners about the various advantages offered by a home that is environmentally friendly.
Kitchens that are designed using green materials are just as elegant and distinctive as a traditional kitchen, so no one but your family will know the difference as far as appearance is concerned. Keep in mind that green building is not an all or nothing proposition; as the homeowner, you are in control.
Some of the elements of a kitchen that is friendlier for the environment and healthier for your family include:
Natural flooring, cabinets and counter tops. In a green home, kitchen floors are often made of cork, bamboo or reclaimed wood. These materials are healthier for your family than vinyl flooring, which gives off gases. Countertops are often made of tiles composed of recycled metal, concrete or glass, rather than marble or granite which are not sustainable. Cabinets may be constructed of strawboard or wheat board. Materials typically used to construct cabinets in conventional built homes include plywood and particle board. Adhesives and binders used in these types of cabinets often contain harmful chemicals, even formaldehyde – a known carcinogen.
Energy efficient lighting and appliances. Energy Star appliances are energy efficient and save on monthly utility costs. Look for the label on refrigerators, stoves, dishwashers, even microwaves. While your refrigerator keeps your food fresh and prevents spoiling, it also accounts for as much as 10% of total energy usage.
When it comes to lighting, you can enjoy beautiful, ambient lighting and still be "earth friendly" by choosing LED or compact fluorescent lights for your kitchen lighting needs.
This may come as a surprise: your kitchen is the room in your home that is the most energy-intensive. Homeowners tend to buy over-sized everything – refrigerators, dishwashers, etc., which means more water and energy usage.
Essentially, the "greener" your kitchen, the less damaging impact you make on the environment and your family's health. Fewer toxic chemicals are used in the building process, meaning you are doing your part to make the world a healthier place for future generations.
Are you considering a new home in Denton County? At Bud Bartley Homes, our reputation as a trusted Dallas custom green home builder has been built on the satisfaction of our clients. We bring more than 30 years of skill and experience to the table, offering elegant, quality, energy-efficient homes that bring new meaning to the words "home sweet home."