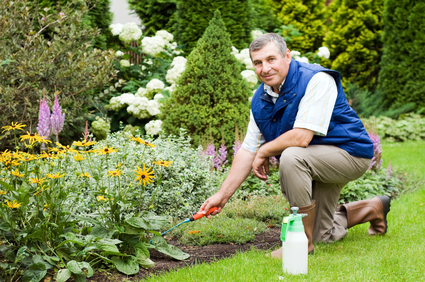 If you've recently purchased a beautiful new Flower Mound custom built home, now is the time to put your gardening gloves on and get busy in the yard! After being cooped up inside all winter, it's easy to become lethargic – and sometimes you need a jump-start to get your energy level back up. What better way than to beautify your lawn, giving it that wonderful curb appeal that turns the neighbors green with envy?
Even if you don't know a thing about gardening or landscaping, these tips will have your yard in tip-top shape in no time:
First, it's important to get your yard "primed" for springtime growth, which means you don't have to have a green thumb. Getting your yard set up early will make for an absolutely gorgeous landscape in coming months.
How to get started? If you enjoy a little solitude, you can do these things on your own – but if you have kids, it's a great way to enjoy some "together" time! Next:
Mulch. Nothing is better than mulching to add nutrients and moisture to your soil, and it also helps to smother out weeds. If you had mulch last year, you want to check it as mulch tends to decompose over time. Some of it may have washed away during the winter season as well. For general landscaping, about 2 to 4 inches spread evenly with a rake in areas where you intend to landscape or plant flowers is sufficient.
Do you have stepping stones? Take a good look at them to make sure they are level, and that there are no deep cracks or other conditions that could make them unstable for walking. Colored stepping stones (such as the terra cotta colored variety) tend to fade out over the years, so you may want to consider replacing them. Stepping stones are great not only for directing your visitors to your door or specific areas of your lawn, but for aesthetic appeal as well.
Inspect your yard for tunnels and other dangers. Critters love nothing better than to dig holes or tunnels in your yard. Not only do these holes take away from the appearance of a beautifully landscaped yard, they can be dangerous. To prepare your lawn for grass turf or seed later, fill the tunnels and holes with soil, then pat down firmly to ensure safety for walking.
Gardening can be an enjoyable hobby for many homeowners, and there is no doubt your landscaping will be gorgeous! However, it's good to prepare before you start setting out new flowers and greenery in your flower beds!
At Bud Bartley Family of Builders, we've been in the Flower Mound custom home building business for decades, and want to help make your house a real home. In the market for a new home? Let us help turn your dreams of a distinctive custom home into reality!