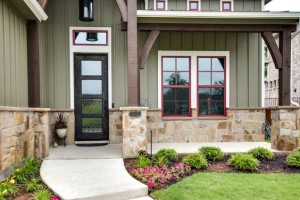 As custom green home builders in Flower Mound and North Texas for decades, we know that efficiency is constantly improving. People are looking to live a greener lifestyle, not only to save money but also to do their part to improve the environment. We have a few key tips when it comes to building a beautiful, quality energy efficient custom home!
Insulation and roofing. Quality insulation and other thermo-protective products is one of the best ways to keep cooling and heating costs low. The right insulation and roofing can work to keep heat inside in winter months, and outside in summer months. Our home builders understand how these products control the way your home absorbs or releases heat.
Energy efficient windows. Windows are a primary source of energy loss. Whether you're having a new home constructed or considering replacement windows, opt for those that include Low-E technology. Your home will stay cooler in summer months, and warmer in winter months. Again, you'll save on energy costs.
Energy efficient appliances. From your HVAC system to the refrigerator, dishwasher, and stove, energy efficient appliances conserve energy without sacrificing performance. The savings can add up substantially when you choose water-saving toilets, low-flow showerheads, compact fluorescent lighting, and other energy saving products! It's easiest to "go green" during the construction phase of a new home, however anyone can make changes.
Sealed, insulated ductwork. Ductwork is one of those important features in a home that's mostly hidden, so homeowners don't tend to give it much thought. It's purpose is to deliver conditioned air into your home, however leaks can result in an uncomfortable home and poor indoor air quality. When ducts are properly sealed and insulated, all of the cooled/heated air reaches your living spaces, rather than empty spaces such as underneath your home! Watch those energy bills drop.
There are countless ways to make your home more energy efficient, which means not only huge savings on utility bills, but also a healthier home and environment. If you're considering a custom built home in Flower Mound or its surrounding areas, give Bud Bartley Family of Builders a call today.