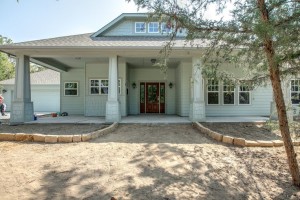 Many people who decide to build a custom home in North Texas aren't really clear about the differences between a custom, spec, and production home. Many builders claim they're custom home builders, when they actually build "spec" homes, or houses they speculate will sell for a profit after completed, or at some point during the building process. As trusted builders who build homes specifically to a single client's needs, we think it's important for you to know the difference.
Basically, there is one key difference between those who build custom homes and those who build spec or production homes. Custom builders construct homes to a client's specifications in regards to layout, room size, total square footage, architectural design preferences, even design and materials used in cabinetry, flooring, and other aspects of a home. Essentially, the home is truly one-of-a-kind, with no other home exactly like it.
Production and spec builders, on the other hand, build homes based on a selection of home plans in their portfolio. For instance, a builder may have 20 floor plans to choose from, each one capable of being customized to a certain point depending on where the home is in the construction process. The closer to completion the home is, the fewer choices home buyers have in customizing it to their needs/design preferences. For instance, you may be able to choose paint colors, floor coverings, or the material you prefer for countertops. The level of customization when compared to a true custom home builder is severely limited.
Both custom and production (or "spec" homes) can be small, average in size, or large, spacious luxury homes. The real difference is that a true custom home is built to your precise specifications in every aspect of the process, from size and layout to materials used, lighting, flooring, crown molding, architectural design, and more. It is truly a unique home, one that, when completed, brings your dream home to life.
At Bud Bartley Family of Builders, we bring more than three decades of skill and experience to those who desire a truly custom home in the Flower Mound area, delivering results beyond anything you could ever imagine. Why settle for less than your ultimate dream home?