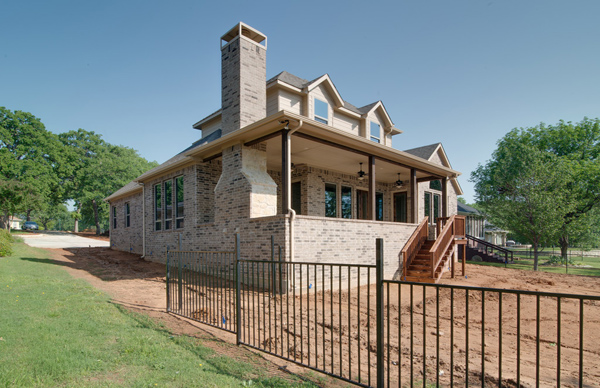 If you already own that "perfect" piece of land in Highland Village and you're looking to build a custom designed home, leave it to the experts at Bud Bartley to transform that perfect piece of land into your dream location with a home that's distinctive, elegant and as beautiful as you always pictured it in your mind.
We know that when you want to build a custom home designed just the way you want it, just any old piece of land won't do. When you already have a lot to build on, it's likely that you've thought countless times about what type of home will perfectly complement the land. We've all seen homes that look as though the land was just meant for that particular home, whether it's a large, upscale home built atop a hill, or a more traditional style home set at just the right angle among the trees. If your dream is to build on your own lot, we can help you achieve that "picture postcard" appeal.
As reputable custom home builders for more than 30 years, we know that even building a home on land you already own can be a real headache. Considering soil reports, lot surveys and the other aspects of getting ready to build, it can be a stressful process – not what you want when you're looking forward to the ideal home for your family! We offer comprehensive services to make the process one that is stress-free and enjoyable. We don't just build custom homes in Dallas and surrounding areas, we get involved in the process from beginning to end, so that you can relax and look forward to the completion of your dream home.
Custom homes are our specialty, but we also "build green" through our GreenSmart environmental building program. This essentially means that you can enjoy a beautiful, inviting and comfortable home for your family that is energy efficient and healthier, both for your family and the environment. Bud Bartley Homes uses only the finest in building materials, and incorporates the very latest energy-saving technologies so that you can enjoy living in your ideal home and know that you're doing your part to protect the environment.
Ready to build on your own lot? Leave it to us to provide you with a wide array of award-winning floor plans that can be customized to suit your design preferences. Custom Highland Village homes are our specialty – and we're happy to take the headache out of building on your own lot.