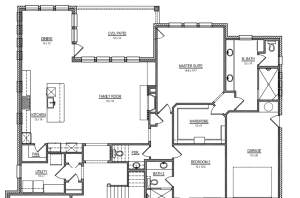 When building a custom Flower Mound home, many homeowners love an open floor plan – but what other factors should you consider when it comes to the layout? Considering you'll likely live in your home for many years, or perhaps the rest of your life, a good layout is essential. You know when a home just "feels" right, and everyone has different needs and preferences. That said, there are some features that make a layout more desirable for the majority of homeowners.
Comfort and privacy are priorities. Most North Texas homeowners prefer that bedrooms should be located a good distance away from the family or living room, and that bedrooms shouldn't be located directly next to each other. This makes it possible for those in the bedrooms or living areas to enjoy watching television, entertain guests, play games, or listen to music without the worry of disturbing others in the house.
Spaciousness. Whether a home is 5,000 square feet or 1,800, any home can feel more spacious with the right layout. Many homeowners today prefer an open family room/kitchen/dining room arrangement so that everyone can visit and socialize while meals are being prepared. Sectioning rooms off with walls often makes for a crowded, closed-off feel and can also make the home seem smaller. Good flow not only helps everyone (family, friends, or other guests you're entertaining) feel more connected, but your home also feels and looks larger visually.
Multi-purpose spaces. Functionality and versatility are vital to most homeowners, who don't want to face a massive renovation should they decide to transform a child's nursery into a home office when the child gets older. Consider whether certain rooms can be used for multiple purposes as your family grows or your needs change. Additionally, you may want to consider placing bathrooms where they're not immediately off the family or living room, as this can make visitors feel awkward. Think about the various purposes a room may serve now and in the future when building.
At Bud Bartley Family of Builders, our Flower Mound custom homebuilders understand that different families have very different needs in terms of space, layout, and other features that make a house a home. We're ready to help you bring your custom dream home to life today!