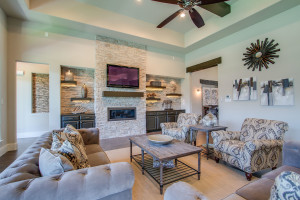 Whatever you call it – the great room, family room, living room – this room often becomes the central "hub" of the home, where your family and friends gather to relax, socialize, or just unwind and watch some television after a busy day. As trusted custom home builders, we know the importance of designing a great room that works for you, one that provides the atmosphere you desire and meets your style preferences. There are a few decisions you need to make in the process of building your custom Flower Mound home which we've outlined below.
First, how large does the great room need to be? This depends on the size of your family, how often you entertain, what type of furniture you prefer. For instance, if you have friends over frequently or prefer a mixture of sofas, sectionals, coffee and end tables, perhaps a hutch or ottoman, you'll need a bigger space. However, if your family is small and you enjoy a cozy space with only a recliner, rocker, and couch, you may want a smaller great room. Another option is a smaller great room that's open to the kitchen and dining area, giving the illusion of more space while making socializing easier when you do have a large group of people in your home.
Next comes style, a difficult choice for many homeowners. While you may love light colored carpet and an elegant white sofa, is this really practical when you have small children? Think about who will be in your great room most, and what type of atmosphere you want to create. Elegant, modern, a space that's rich and bold, or one that provides a warm, welcoming atmosphere? This is mostly up to your personal style preferences. Lighter colors in walls, floors, and furnishings creates an open, spacious feel while darker, rich colors are warm and bold. The fireplace mantel you choose, scattered area rugs on wood floors, even a statement chandelier or other choices in lighting all come together to create your unique style.
How high should the ceiling be? This depends on whether you want an open, airy feel; or have a great view you want to showcase from a wall of windows; or prefer a cozier environment. A high ceiling creates a sense of grandeur, while a low ceiling is perfect for those who prefer a more cozy space. Today, high ceilings paired with window walls are extremely popular – but it's your home, so make it your own!
When it comes to the design of your great room, give it considerable thought and plan the design around your family, lifestyle, and design preferences. You want to create a space you'll love just as much 10 years from now as the day you moved in!
At Bud Bartley Family Builders, our team of custom home builders are dedicated to excellence and quality in everything we do. If you're considering a custom home in the Dallas-Ft. Worth Metro area, give us a call today!